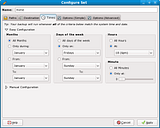 fwbackups
is a feature-rich user
backup program that allows you to backup your documents
anytime, anywhere. It is
completely free to download and use without any sort of trial or restrictions
. In fact, fwbackups is
open-source
, which means anybody can use, share it and improve it. If you would like to help develop or test fwbackups, see the developer's page.
fwbackups features:
- cross-platform availability (Linux, Mac and Windows)
- flexible backup configurations
- backups can be stored nearly anywhere
- entire computer backup,
- one time backups
- scheduled backups
- file/folder exclusion
- and more
Download fwbackups
If you use Ubuntu and don't know how to compile this application, try another great backup application:
Deja Dup, which comes with Ubuntu repositories
.