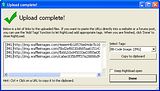 We already covered an
file & image upload utility
but Rightload can be used from the context menu and once the files are uploaded it can even generate links or image tags.
Rightload
is a Windows application that makes short work of uploading files to almost any server, whether you have your own FTP or just want to quickly send images to Flickr.


After the installation, go to

Tools > Manage Servers

to configure your accounts. Rightload supports FTP, SFTP and Flickr out of the box, but you can get more plugins from the download page, including Imageshack, Rapidshare, and Tinypic. After configuring, you can upload files by dragging them into the window or, as i said, from the context menu (you just right-click on the files, select the server and target folder and Rightload will do the rest for you).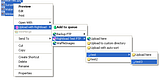 There are also a lot of additional features for advanced users including:

* Automatic thumbnail creation
* Creating a list of uploaded files in BB-Code or HTML to paste into forums or websites

[via lifehacker]