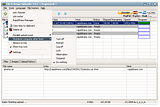 We already covered a nice
Rapidshare and Megaupload (and others) downloader
and a great
Firefox addon for uploading images to Photobucket and ImageShack
.
But how about a stand-alone application for uploading to both filehosts and imagehosts?
Using a software for file uploads on file hosts on the Internet can be beneficial in several ways. It is usually faster than loading the website in a browser. Many software programs do also keep track of files that have been uploaded so that it becomes easier to manage the links that are created in the process.
File & Image Uploader
is a freeware application (Windows only) which supports uploading files and images to over 150 services, including Megaupload (free and premium), Rapidshare (free and premium), Mediafire, Filedropper, ImageShack, TinyPic, etc. and also to
multiple upload file hosting services, such as Gazup
.
File & Image Uploader also gives you the possibility of parallel uploading and supports skins. The name of the file and the link to the upload host will be displayed once the upload has been completed. The embed codes of uploaded images will be displayed in the software as well.