Kubuntu Netbook (10.10) finally got its application menu integration ready yesterday (turned off panel auto-hiding by default).
As you can see in the screenshot, it's not exactly the same like on Ubuntu Netbook Edition 10.10 maverick Meerkat, but it's built on the same technologies.

The Kubuntu Nebtook "global menu" also works with GTK/GNOME applications (but for now you'll have to install some additional packages for this):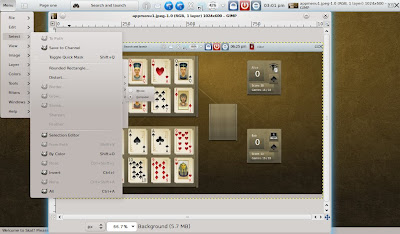 The GIMP application menu in Kubuntu Netbook 10.10
Of course, just like it is with the UNE application menu, the Kubuntu Netbook appmenu also has some bugs so if you plan on testing it, don't forget to
submit any bugs
you may encounter!
And some old news we didn't post on WebUpd8 (but we shared it on Twitter / Facebook / Google Buzz):
Kubuntu Netbook Edition 10.10 is dead
. There won't be an Kubuntu Netbook Edition 10.10 Maverick Meerkat ISO, and instead the Plasma Netbook has been added to the standard Kubuntu desktop ISO with some detection to select Desktop or Netbook based on the screen size. More on this,
here
.