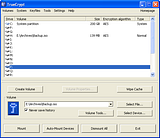 TrueCrypt
is a software application used for real-time on-the-fly encryption. It is distributed without cost, and has source code available, although under a restrictive licence and
works on Windows, Linux and Mac OSX
.
The application enables you to
encrypt an entire partition or storage devices
(USB flash drives, etc) or
create a virtual encrypted disk
within a file and mount it as a virtual disk, that can be accessed via a drive letter. Any file that is stored on this virtual drive is automatically encrypted on-the-fly, and can only be accessed while the drive is mounted with the correct password or key. TrueCrypt supports a variety of encryption algorithms, including AES-256, Blowfish (448-bit key), CAST5, Serpent, Triple DES, and Twofish. Other features include support for FAT32 or NTFS formatting, hidden volumes, hotkeys for mounting/dismounting and more.
It offers 11 algorithms for encrypting your private files in a password-protected volume. You can store your encrypted data in files (containers) or partitions (devices). TrueCrypt works hard to offer powerful data protection, recommending complex passwords, explaining the benefits of hidden volumes, and erasing telltale signs of the encryption process, including mouse movements and keystrokes.


TrueCrypt performs the following tasks:
Creates a virtual encrypted disk within a file and mounts it as a real disk.
Encrypts an entire partition or storage device such as USB flash drive or hard drive.
Encrypts a partition or drive where Windows is installed (pre-boot authentication).
Encryption is automatic, real-time (on-the-fly) and transparent.
Provides two levels of plausible deniability, in case an adversary forces you to reveal the password: 1) Hidden volume (steganography) and hidden operating system. 2) No TrueCrypt volume can be identified (volumes cannot be distinguished from random data).
Encryption algorithms: AES-256, Serpent, and Twofish. Mode of operation: XTS.
Users can even create a hidden operating system, encrypted away from nosy busybodies, but make no mistake--TrueCrypt is not for the casual encryption explorer. Be sure to thoroughly understand what you're doing with the program before you do something regrettable.
Download TrueCrypt
(Windows ista/XP/2000 (Windows 7 is in the works) .exe, Mac OSX .dmg and Linux: OpenSUSE .rpm and Ubuntu .deb (both x86 and x86_64).
If you are looking for a 'completely' open-source alternative, see
DiskCryptor
.