The new Firefox 3.5 comes with native support for non-flash videos. But those videos do not have an option to view them in full-screen. Obviously, there was a need for an extension and it didn't took too much time before one such addon was released.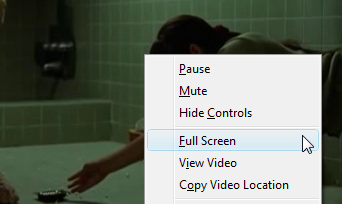 Full Screen Video, by Dao Gottwald adds an option to video's context menu to view a video in full screen mode. Right-click, select and watch. There are a couple of caveats though: the video restarts when switching to full screen but I found it to be a problem much less annoying than I thought it would be. Also, full screen is only achieved on Windows. On other platforms it's just a maximized window.

Long time community member, Ken Saunders, has released some cool skins you can try simply editing your userChrome.css file in your profile folder. Check Ken's cool video player themes.