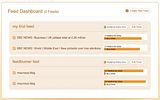 Twitterfeed
is a simple publishing tool which turns any RSS feed into a Twitter stream. Each feed item becomes a new Tweet consisting of the headline and a shortened link to the story or blog post. Today, 170,000 publishers are using Twitterfeed to convert 300,000 feeds into Twitter streams.
By
one count
, Twitterfeed is the third largest Twitter client, being used by 6.5 percent of all Twitter accounts and at one point was generating
9.2 percent of all Tweets
. Nobody uses Twitterfeed to consume their Twitter stream, so it is not really a client like TweetDeck or Seesmic Deesktop. However, a lot of people use it to populate their own Twitter account with messages.
The new Twitterfeed now includes a basic analytics dashboard which brings in bit.ly data so publishers can see how much traffic is coming to their site from Twitter. They can also compare that side-by-side with traditional Feedburner stats to see where most of their redares are coming from and which source is growing faster.

Twitterfeed is also adding more sign-in options. In addition to OpenID, it now accepts usernames and passwords from Google, AOL or Yahoo accounts. But one big drawback the service still needs to address is the lag time between a post hitting a feed and the corresponding Tweet hitting Twitter. It can still take a half an hour between those two events. When you are talking real-time, that is 30 minutes too long.



[via techcrunch.com]