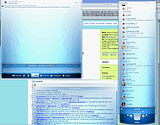 Trillian Astra, which has been in development for nearly three years, is now available to users as a public beta. You won't need to register for a private key to download it, although if you've been using it since we reported on the Astra beta in April, it might be time for an upgrade.
In announcing on the Trillian blog Tuesday that the beta is now public, Cerulean Studios also said the latest build of the multi-protocol chat client fixes bugs related to server-based problems. The company clearly has confidence in the beta, though, since they've made it the featured product on their download page. Users can still grab Trillian 3.1, the latest stable build, but only from a link off to the side.
On the Trillian download page, you can also see that Cerulean Studios has plans for Mac, iPhone, and Web-based clients. So far, none of those versions is available for public testing.