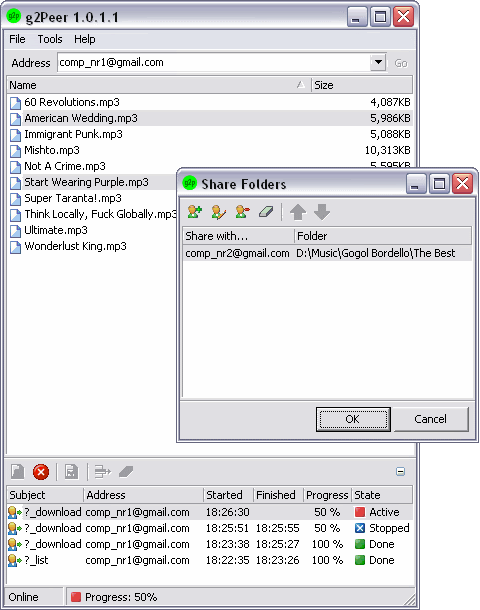 g2Peer
is a new utility which allows you to share files on PC through Gmail without having to upload any file online or to your Gmail account. Gmail address is served as unique "IP address" of PC in g2Peer network.
Once installed, you need to login with your Gmail account and use either POP3 or IMAP. After configuring your account, you can share files by adding the folders and users with whom you want to share files. You can do this by selecting Share under the tools menu.
Allowing someone to download your shared files can be done in 2 ways:
1.

The other person needs to install this application and then simply enter your email address and all your shared folders will be displayed on the other person's computer. To download the files, simply right click and select 'download'.



2.

Through email commands. Only the person sharing the files needs to have g2Peer installed, and the person wanting to download the files can send commands through gmail, like in the screenshot below:



So all you have to do is email a command to the email address of the computer/person which shares the files and you will receive a replay with the output of your command.

It supports

?_list

and

?_download

commands - the first one for listing the shared files and the second one for downloading.

g2Peer runs on Windows 2000/XP/Vista.