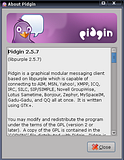 Pidgin 2.5.6 needs tweaking for working with Yahoo
, so the
Pidgin
devs decided to speed up the release of 2.5.7 but on it's website and even in the official Pidgin repository, this version has not been packed yet into a .deb package.
But you can download it from
getdeb.net
.
Please
note
that you have to remove your current version before installing the new version.