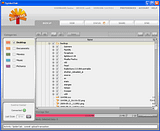 SpiderOak
provides an easy, secure and consolidated free online backup, sync, sharing, access & storage solution for
Windows, Mac OS X, and Linux
(Ubuntu, Debian & Fedora). They offers 2 GBs of space for free and you will be enjoying all of the features SpiderOak has to offer.
SpiderOak is working amazing to
protects users against data loss;
permits browser-based access to information from the user's personal computing devices and/or from any Internet-enabled device;
ensures common file availability across multiple user machines without automatic synchronization services;
offers password-protected 'ShareRooms' for easy family/friend/colleague access; and
provides a variety of technical advantages for efficient and cost-effective data management.
Sure there are other services like
Dropbox
, etc. for this job, but one thing I liked about SpiderOak is the upload speed which is by far the best from all the sync/backup applications I tried.