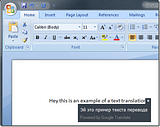 Google Translate Client
is an application which uses Google Translate to translate text in every Windows application such as MS Word, Notepad, Windows Live Writer, Firefox and so on. Obviously, it requires an Internet connection to work, but it consumes an unnoticeable bandwidth or system resources.
After installing it you will see Google Translate Client in the systray and every time you want to translate some text, all you have to do is select it and a "G" icon will pop-up. You will need to click this icon and the text will be translated instantly.
[via
addictivetips
]