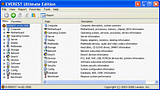 In case you don't know Everest is:
Industry leading system diagnostics and benchmarking solution for enthusiasts PC users, based on award-winning technology. During system optimizations and tweaking it provides essential system and overclock information, advanced hardware monitoring and diagnostics capabilities to check the effects of the applied settings. CPU, FPU and memory benchmarks are available to measure the actual system performance and compare it to previous states or other systems.
Furthermore, complete software, operating system and security information makes EVEREST Ultimate Edition a comprehensive system diagnostics tool that offers a total of 100 pages of information about your PC.
How to get a free license for Everest Ultimate Edition 4.6:
1. Go to this german promotion page and fill in your first and last names (Vorname , Nachname) plus the email address and click on "Senden".

http://www.pro.de/aktion/com/everest

2. You will receive a first email message where you should click on the confirmation link. ( or copy and paste in your browser ).

3. You will imediately receive the licence key in a second message.

4. Download the installer from one of the below 2 locations:

http://www.pcauthority.com.au/Download/122107,everest-ultimate-edition-46.aspx

http://download.cnet.com/Everest-Ultimate-Edition/3000-2086_4-10983423.html

5.

Run the installer and use the licence key received in the email to register.




[via for-free-on-internet.com & instantfundas]