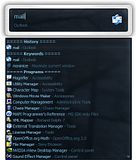 Executor is an application launcher similar to Launchy or
Gnome-Do
, but for Windows only.
To launch an application you have to type the first few letters and all matching applications will be displayed in a drop-down list. But that's not all: Executor can search the entire hard drive too. You can also assign shortcuts for applications, for instance you can assign the "ff" shortcut to Firefox so that when you enter ff, Firefox will be launched.
The program has a calculator for performing quick operations and supports several special commands like typing $M$ minimizes all windows, typing $APPS$ or simply "apps" displays a list of all running applications, $MUTE$ or "mute" mutes the speaker and so on.
Other useful features worth mentioning are:
Skin Support
Maintains history of run commands
Supports wildcard search
Full support for keyboard shortcuts
Ability to access Windows context menu from within Executor
Shortcuts to shutdown, hibernate, standby the computer
Open URLs
Override default file handling programs. Example: open PDF files in Adobe Reader even though the default PDF program is say Foxit Reader.
For the full list of features, visit Executor's homepage. You may also want to take a look at some more screenshots, here.

[via instantfundas]