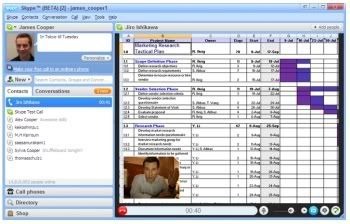 Skype
, the popular VOIP client formerly owned by eBay, just released a
new beta version
of its Windows client. The new version finally brings screen sharing to the Windows client, something which already became available in the last beta version of the Mac client in January. In addition, Skype now also allows users to import their contacts from Gmail, Windows Live, Hotmail, AOL, LinkedIn, and Yahoo.
Thanks to this update, Mac users (who use the latest beta version) can now also finally share their screens with PC users, which wasn't possible until now.
Screen Sharing
Overall, while it works perfectly well, Skype's screen sharing features are pretty basic and allow users to either share the full screen or select a part of the screen they want to share. A number of third-party developers already offered Skype plugins that allows users to share their screens with their contacts and quite a few of these offer a wider range of features than Skype's own solution, including white-board functionality.
The image of the screen is great, as one would expect, but in order to share a screen, a voice call has to be initiated, which might not always be what you really want to do, especially if you are like a lot of us here at RWW who often use Skype for text-only chats as well. Sadly, it also doesn't look like it is possible to share a screen with a group of contacts or a Skype room. For now, you will still need dedicated screen sharing programs like Yuuguu for this kind of functionality.
More New Features
Skype also added additional support for visually impaired users who use screen reading software, as well as birthday reminders that will alert you when it's one of your contacts' birthdays.

As always, we need to point out that this is beta software and you might still find some bugs in it. Overall, though, Skype's beta releases have generally been very stable. A full set of release notes is available here (PDF)



[via RRW]