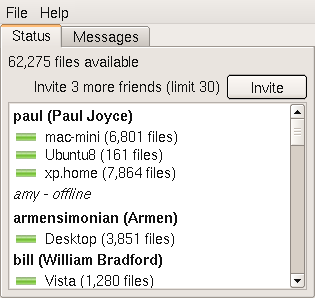 Simplify Media is a program that lets you listen to your friends music and allows them to listen to your music library, all in just a few steps. Also, this works for any operating system.
The operation is simple: choose which folders your friends will be allowed to listen and then invite them to create an account.
In Linux use Rhythmbox to listen to the music of your friends, use iTunes on OS X and Winamp in Windows.
Limitations
Playback: Song lengths may display inaccurately and the song progress bar is not operational.
Server: Except for WMA files, all file types supported by Simplify Media can be streamed from Linux machines. Note that playlists cannot be shared from Linux.
Installing Simplify Media on Ubuntu
Download and unzip simplifymedia.tar.gz. Review the README and, for Rhythmbox, run the setup script.

Ubuntu 8.10 or 9.04 is required.

Launch Simplify Media and review the software license.

Create your free account by entering a screen name and password. Use your same screen name to sign in on your other computers.

Add an email address and a name for this computer.

The final set-up step: pick music to share. Only you and the people you invite can stream music from your computer.

Only you and the people you invite can stream music from your computer.

Note: it will take several minutes for your songs to start to be available, and it may take an hour or more for the scan process to complete if your library is very large.

The Media List displays the status of the computers you are connected to.

To access more music, invite friends (limit 30).

To chat with friends, click on their names. The Messages tab lets you see when others are playing your music.

To play music, open Rhythmbox. Simplify Media libraries appear under Shared.

Tip: use search and browse to explore large libraries.
The Support page contains answers to frequently asked questions. If you encounter a software problem, please try the Troubleshooting option from the Simplify Media menu. If this does not address your issue, please consult the Troubleshooting web page.