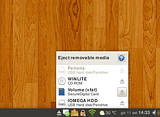 Ejecter is a small but very useful utility to safely, easily remove external media. A simple menu that sits in the system notification area, providing you a quick way to unmount external peripherals such as usb pendrives, cd/dvd, external hard disks and so.
To install Ejecter in Ubuntu Jaunty, open a terminal and type:
sudo apt-get install ejecter
For Ubuntu Hardy and Intrepid, download it from
here
.
You can also install it in any other Linux distro by
downloading the source files
.
[via
Only Ubuntu
]