Gmail's pretty popular, but even Gmail users can fall prey to email overload. An important work-related message could end up lost in a sea of spam and
bacn
.
Today, I'll show you how to use
ReBoxed
to bring more important messages bubbling up to the surface of your inbox.
After creating your ReBoxed user account, you'll be directed to your Google Account to allow ReBoxed access to your Gmail inbox and contact information. You don't have to provide your password but this does permit ReBoxed to peek into your inbox automatically whenever you use their service.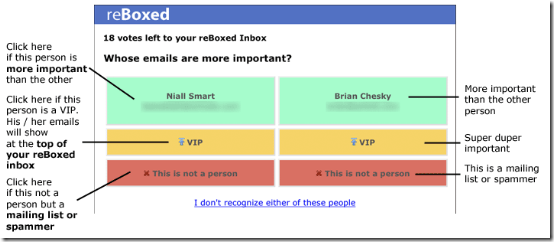 After ReBoxed collects the list of your contacts, it will as you to vote for them according to importance, which is just a nice way of asking you to prioritize your contacts. You'll be presented with two choices from which you must select whose messages are more important. You may also mark a contact as a VIP or mark that address as belonging to an automated service.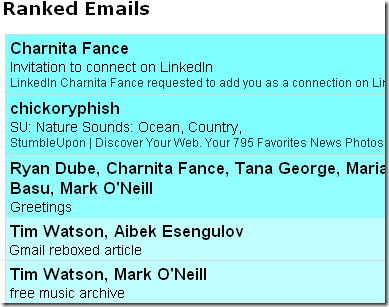 After you're done voting, you'll arrive at your inbox view. ReBoxed seems to only display unread messages from GMail. Messages from VIPs will be displayed at the very top, followed by messages from ranked senders and finally, bulk mailers.

For example, while a message from PayPal is important (and thus highlighted), it's still a "robot" sending the message, and is not as important as messages from my colleagues and editors. Messages from my family would rank at the very top, having marked them as VIPs, above my colleagues. You have the option of voting a few more times in order to train the filters.

Clicking the messages will open that them in Gmail, where you can reply, delete etc. ReBoxed is an easy tool to help get your important matters read and out of the way at the beginning of your day.



[via makeuseof]