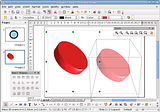 Open Office 3.1 final has been released today. The Open Source alternative to Microsoft Office can be downloaded from download portals like
Betanews
but not directly from the Open Office homepage as it has not been updated yet to reflect the release of the new version. The new version of Open Office is packed with lots of new and enhanced features but also bug fixes which makes it a recommended download for Open Office users but also anyone else who is interested in installing an inexpensive Microsoft Office competitor.
Some of the new features that have been added to Open Office 3.1 are antialiased drawings to smooth the edges of graphics, replying to notes, improved grammar checking, hyperlink management and sorting, control of slideshow media, macro support for Open Office Base, relative database paths, better internationalization for Hebrew and Arabic plus performance improvements.

The full list of changes and new features can be seen in the official Open Office 3.1 documentation which lists all the major improvements over previous Open Office versions.