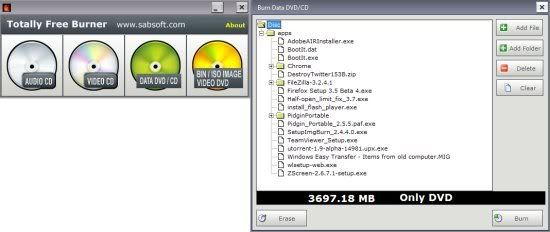 Totally Free Burner
is a CD/DVD burner that has an amazing advantage over bloated applications such as Nero, etc: it has a size of under 2mb and does what you would expect from such a program: write audio CD, video CD, data, and image/video DVD.
Make your file/folder selections, click burn, and press start when the burning status box appears. Advanced settings are available, but they're hidden by default. One feature I particular like is that if you accidentally close a data project window, TFB remembers its contents as long as you don't close the project selector. Re-click data DVD/CD and your selections will instantly reappear.
Totally Free Burner is a free for any use application / Windows only.
[via
download squad
]