Microsoft is due to release a Technical Preview of Office 2010 to trusted partners and lucky registered testers in July, but in what's become a pretty common pattern, BitTorrent-savvy browser are already seeing leaked builds.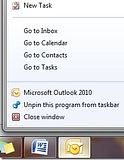 Ars Technica has a
full set of Office 2010 Technical Preview screenshots
, covering the installation, taskbars, and basic use of every app inside the Office package. What really has us excited, however, is Robert McLaws'
screenshot of Windows 7 taskbar integration
(partially pictured at right), which shows individual Office apps each getting their own taskbar slot, but also offering new message/appointment/contact/task creation and jump-to shortcuts from each icon. If you're the type to drop bleeding-edge office builds onto your system, note that both 32- and 64-bit builds are apparently out there.
[via
lifehacker.com
]