This is old news but in case you didn't know: you can use a single Gmail email account for all your Gmail accounts. You can sent emails from each address, only logging in into your main account and also you can add other email accounts that support pop3. There are just a few simple steps you need to follow in order to achieve this:
Go to your Gmail account > Settings > Accounts and under "Send mail as:", click "Add another email address you own":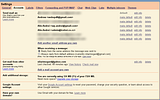 and follow the on-screen instructions. You will receive a confirmation email on your email address you just added.
To add an email account that uses POP3 (other than Gmail), in the same place on "Get mail from other accounts:" click "Add a mail account you own" and again, follow the on-screen instructions:
Then, you add labels and filters for these email accounts which will make emails look like this:



To create a filter, in the upper part of the screen, in the right side of the search, click on "Create filter":




And in the "To" field, enter the additional email address you just added and click "Next". Now check "Apply the label:" and select "New Label", enter the text for the label (for example, the name of the email address you added). And you are done, now you will receive emails from more than one account into your main Gmail account. You can also reply to these emails as if you were logged in into them: