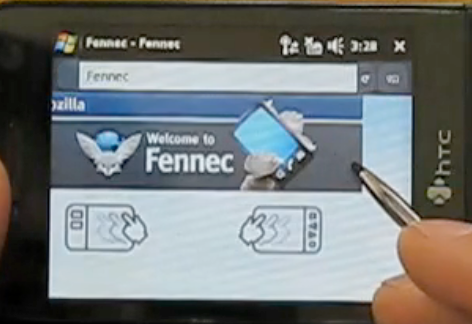 For months, Mozilla's mobile version of its Firefox browser has been in first alpha, then beta modes on two Maemo-run Nokia Internet Tablets that few possessed. On Friday, Fennec (as it's been code-named) has arrived on a platform that many more testers will be able to sink their fingers into: Windows Mobile 6.
As with Fennec beta 1 for the Nokia N810 and N800, Fennec Alpha 1 for Windows Mobile 6 (download the CAB file) has been tailor-made for the HTC Touch Pro, with an intention to expand to more handsets in future releases. The flashiest feature to expect is support for add-ons. We got a glimpse of them at CTIA, and judging from Mozilla's video tour of Fennec on Windows Mobile, the module is now much more fleshed out. In addition to a list of recommended add-ons is a tab to start searching for more extensions.
The user interface looks identical to that on the Maemo devices, with the Awesome Bar search field front and center, which serves up suggested search terms in addition to showing off your search history. Flick the screen to the left to see bookmarking tools and the add-ons manager in a gutter on the right. Flick to the right to expose the icons that comprise your "tabbed" browsing experience. The rest of the screen is devoted to your Web page.
For the techies, Mozilla built its interface for Fennec Alpha 1 for Windows Mobile using CSS. This will help the app adjust to various screen sizes and resolutions, says Mozilla. The Mountain View, Calif., company also divulged that this Fennec build shares Firefox's memory management library, JeMalloc. This resource-sharing is another indication that Mozilla is striving to create a mobile product as identical to its desktop offering on its back end as is technologically possible.
Since it's in an early testing phase, we expect you'll encounter a long list of bugs and other known issues in Fennec Alpha 1. Delays in panning speeds are one problem Mozilla noted, and clean-ups in JavaScript processing and graphics are high on its list for open-source development. You'll find a few more details and some sound installation instructions here. If you get a chance to try out Fennec Alpha 1 on the HTC Touch Pro, let us know what you think. We'll certainly be keeping our eye out for developments.