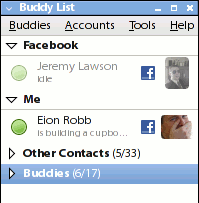 Facebook Chat for Pidgin connects to the new Facebook Chat IM service without the need for an API key
. Currently the plugin can log into the Facebook servers, grab the buddy list, send/receive messages, add/remove friends, receive notifications, search for Facebook friends and set your Facebook status.
There are downloads available for Windows, Mac OSX, Ubuntu .deb files and for other Linux distributions: .so file which you have to copy in Pidgin's plugins folder (see below).
Download Facebook Chat for Pidgin
. There are also some protocol icons for Facebook which you can download from the same location.
How to use it:
Download and install the plugin for your specific platform
Restart Pidgin (or go to Tools->Plugins) to redetect plugins
Add a new account to Pidgin (Accounts->Manage Accounts->Add)
Choose "Facebook" from the dropdown list
Use your Facebook email address in the username field Start chatting :)




How to install it on Linux (except Ubuntu):



Copy one of the .so files to either /usr/lib/purple-2/ (for 32-bit Linux), /usr/lib64/purple-2/ (for 64-bit Linux), /usr/lib/pidgin/ (for Nokia/Maemo) or ~/.purple/plugins/ (if you dont have root access) and restart Pidgin.



Icons:



Extract the facebook_icons.zip file to the pixmaps/pidgin/protocols folder. On Windows this is generally C:\Program Files\Pidgin\pixmaps\pidgin\protocols and on Linux, /usr/share/pixmaps/pidgin/protocols



>You can also grab the "Original Emoticons" theme pack that has Facebook smilies/emoticons from http://wiki.andreineculau.com/Original_Smileys_Theme_for_Pidgin

If you're having trouble with "Invalid certificate" in Pidgin, download the .pem file and add it for login.facebook.com in Tools->Certificates in Pidgin.