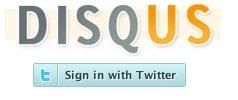 Disqus are continuing to innovate, and today they're rolling out a new feature on all Disqus blogs, including Web Upd8: the ability to Sign In with Twitter and cross-post your comment to your Twitter stream.
Disqus already has the ability to cross post to Twitter if you have a Disqus account already. And if you comment on multiple blogs, that still might be the best way to set it up. But if you just want to quickly leave a comment on Web Upd8 and have it shown to all your Twitter followers, Disqus makes that super easy with a big "Sign In with Twitter" button.
Go ahead and try it: if you're not logged into Disqus, click the big "Sign In with Twitter" button and leave a comment on this post. It'll appear in your Twitter stream right away.