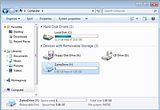 By now, you should have heard of some of the popular cloud storage services such as
Dropbox
, Sugarsync, Box.net etc. Recently, there is another kid on the block and I think it is worth the mentioning.
ZumoDrive is an online storage service that everyone can use to store their files in the Cloud and access them from different computers. What makes it different from the rest of its competitors is the way it manages the data on your computer. Most storage services create a folder on your local hard drive and sync all of the data to/from that folder. This might be a good idea in order to keep the data in sync, but what if you are using a 4GB Netbook and you have 10GB of data in the cloud? Your Netbook won't be able to hold all the data.
What ZumoDrive does is: mount itself as a drive on the computer and "tricks" the computer into thinking that the hosted data are local. When you click to open any file (or music) from ZumoDrive, it will stream those files from the cloud and open them with any local application. This way, even if you are running out of hard disk space, you can still access 10GB (or even 500GB) of data from your computer effortlessly.
What happens if I am not connected to the Web?
There will certainly be times when you are not connected to the Web, so does it mean that you won't be able to access to your data? This is what I thought when I first used ZumoDrive. Apparently, ZumoDrive is clever enough to prevent this from happening.
When using ZumoDrive, your hosted files are tagged with a specific logo on the icons. This means that the files are currently residing on the cloud server.
When you click to open any file, it will be streamed from the server and cached on your computer. In the event that your computer is not connected to the Web, there is still a cached version on your computer that you can open, view and edit; just like any other file. The next time you are connected to the Web, ZumoDrive will sync the local data changes back to the cloud server.
In the settings page, you may configure the amount of hard disk space available for caching and where to store the cache. You may also set the policy for ZumoDrive to follow, whether or not to always stream file from the server, to always cache it locally or a mixture of both.
ZumoDrive is currently available for Windows, Mac OS X and iPhone/iPod Touch. Linux users can only access ZumoDrive via the Web interface. According to ZumoDrive, a Linux version is coming soon, so stay tuned to the ZumoDrive developers.
A free account comes with
1GB
of storage space. Those who require more storage space may upgrade to a premium account at prices ranging between $2.99 (10GB) to $79.99 (500GB) per month.
[via
makeuseof.com
]