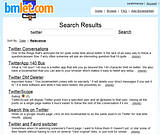 Love bookmarklets? You know, those small bits of code that you add to your web browser's Favorites menu? With bookmarklets, you can reduce browser bloat by replacing a number of your add-ons with bookmarklets that perform the same actions, yet without the need for extra software installed. And if your default browser is Google Chrome, bookmarklets are even
more
essential to getting things done since you can't use extensions at all
unless you run a developer build
.
If you've been looking for a great resource for finding bookmarklets, you're going to love the new site at bmlet.com, an online directory and search engine just for bookmarklets.
On the bmlet homepage, you'll see the highest rated, newest, and most popular bookmarklets listed and there's a search box provided where you can query to find just the one you need.
If you'd rather browse through the listings, you can do so from the "browse" link at the top of the page, but here your only options are sorting them by date or relevance. That's not all that useful, to be honest. (And how are they determining relevance, we wonder?) An alphabetical listing or listing them by category would be a lot more helpful. In fact, it's almost not worth bothering with the browse option at all.
That's really not a big deal, though, since the search engine works just fine. However, it looks like the site still has room to grow - we noticed that they were missing a few of our favorites. For example, we love the "share in Google Reader" bookmarklet, but a search for Google Reader only delivered two results: view feed source and note to Reader. Oh well. (You can see a list of great bookmarklets we're using here). But on the other hand, a search for Twitter left us with so many options it was hard to even choose a favorite.
If, like us, you notice any missing bookmarklets on the site, you don't have to wait for them to add them to their directory - you can just add them yourself. After creating an account, you can click the add bookmarklet link and fill in the title, description, javascript, source link, and tags for the bookmarklet you want to share. Hit "submit" and you're done.
Be warned though - it's very easy to lose track of time when delving into this resource. Instead of giving it a quick once-over, I found myself lost in there for over half an hour today. But what better way to spend a Friday, right?