(click to enlarge)

Advanced Gnome Menu (or AGM) is a combination between a menu and a dock. Even though the word 'Gnome' is in it's name, it will soon also work with KDE and Xfce (or it could already work, I can't test this as I only have Gnome installed).
It supports themes, plugins (actually this is what's displayed in it: the usual gnome menu, bookmarks, favorite apps, etc), transparency, etc.
To install it, download the source files or .deb files
from here
.
NOTE to Ubuntu Jaunty users
: the deb files won't work but there's a fix: just download from the same location the file called
update_from_svn.sh
and launch it with sudo permissions.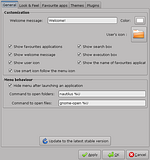 After it's installed, right click on a panel, select "Add to panel" and add AGM. Then right click it and select Config AGM. Now you can select the 'plugins' such as the usual Gnome Menu, Places, Search, Bookmarks, Favorite applications and so on.

You can also download some themes from here (extract the archive, then import the themes into AGM) or just customize the existing one to what you like.

[via Gnu/Linux Atelier]