A recommendation engine is a simple mechanism to learn about stories that other people may have enjoyed reading on your site. The list of recommended items (or web pages) is often published on the site so that new visitors can quickly discover popular stuff without having to dig the archives.

The recommendation engine provided by Google Friend Connect is fairly simple and easy to use, for both the website owners and readers themselves.
There are basically two components that make up the recommendation engine, one of which will allow your readers to recommend content, and another which will show a aggregated list of all the user recommended content, both of the components are customizable from your Friend Connect dashboard.
Recommendation Gadget
The Recommendation Gadget can be easily customized you can either use a compact button or a modular gadget.

Once you have created the gadget copy the Html code provided and paste it to your website, users can now start recommending content to others.
Recommended Stories List Gadget
The Recommended Stories List Gadget will allow you to show the top user recommended content on any part of your site, configure the recommendation list and copy paste the Html code to your webpage.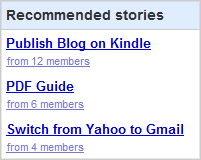 This gadget will list out the user recommended stories for other readers to read.
Note: The recommendation gadget and recommended stories list gadget will only work for the site that you created the gadget for, placing it on a different site will not work.
[via techie-buzz.com & labnol.org]