OpenOffice
is already a complete desktop office suite that is at par in terms of features with the proprietary Microsoft Office. However, its functionality can still be improved by utilizing useful extensions that are easily available.
Like in Firefox, OpenOffice will let you install or remove extensions without difficulty with the use of an Extension Manager.
Now if you are ready to try out some handy OpenOffice extensions, here are those that I highly recommend:
1.
Writer's Tools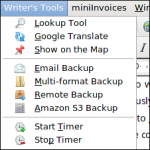 This is definitely one of my favorite extensions. Fully loaded with useful utilities, Writer's Tools is truly a must-have for professional and even for non-professional writers. Some of its impressive features are:Multi-format Backup tool saves the currently opened Writer document in the Word, RTF, and TXT formats.
* Email Backup tool can be used to quickly send a backup copy of the currently opened document to a specified email address.
* Lookup Tool lets you look up the currently selected word in several online references, including Cambridge Dictionaries, WordNet, and Google Define.
* Post to Microblog tool can be used to send messages to the Identi.ca and Twitter microblogging services.
CLICK HERE TO DOWNLOAD
2.

LanguageTool





This extension makes it possible to check for grammatical and language errors since OpenOffice doesn't have a grammar and language checker by default. It supports languages in English, German, Polish, Dutch, and much more. It is rule-based, which means it will find errors for which a rule is defined in its XML configuration files. Rules for more complicated errors can be written in Java. However, it does not include spell checking.



CLICK HERE TO DOWNLOAD




3.

Professional Template Pack II




If you want to create professional-looking documents and presentations, then you must get this extension. This template pack contains more than 120 templates for Writer, Calc, and Impress. Some of the included templates are:

* Business correspondence templates
* Budget and project plan templates
* Event posters in six different layouts
* Presentation templates
* A dozen formal and personal letter templates
* Business card templates



CLICK HERE TO DOWNLOAD




4.

Sun Presentation Minimizer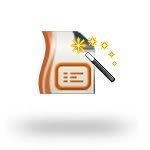 If you want to efficiently reduce the file size of your presentation, then this extension is for you. It can optimize the image quality size and remove data that is no longer needed in your presentation. The Sun Presentation Minimizer wizard summarizes all of the changes that will be made to your presentation, and then gives you an estimate of the file size reduction.



CLICK HERE TO DOWNLOAD




5.

OpenOffice.org2GoogleDocs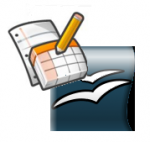 This extension is essential for those who are always on the go. It makes it possible to export, update, and import your documents to and from Google Docs, Zoho and WebDAV servers. With OOo2GD you may export to Google Docs, Zoho and WebDAV servers:

* Documents: ODT, SXW, DOC, RTF without modification, other known to OO.org after conversion to ODT

* Spreadsheets: ODS, XLS, CSV without modification, other known to OO.org after conversion to ODS

* Presentations: PPT, PPS without modification, other known to OO.org after conversion to PPT



CLICK HERE TO DOWNLOAD




6.

Modern Impress Template


This is simply a collection of 30 beautiful templates that you can use for your presentation to impress your teacher or your boss. The graphics by the way are based on open-source art. After installation, you can access the template by going to File -- > New --> Templates and Documents --> Templates --> My Templates.





7.

DataForm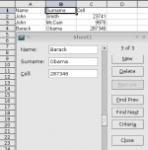 To be able to generate a data input form for tables in Calc (reproducing the "Data – Form" feature of Microsoft Office Excel), you will need this extension.

In Calc, create a table with at least one row and the headline, for example:
Name | Surname | Cellphone
John | Smith | 1234455

Then, click on a range or any cell of the newly created table (not on empty cells), and go to Data - Form. That's it. A form will appear letting you insert other records, or edit-delete the old ones.



CLICK HERE TO DOWNLOAD




8.

Alternative dialog Find & Replace for Writer




This is the enhanced version of Find & Replace function in Writer. Some of its key features are:

* Fast selection preset regular and extended expressions

* Searched or replaced text can contain one or more paragraphs

* Search out block of paragraphs delimited by two text marks

* Multiple search and replacement in one step



CLICK HERE TO DOWNLOAD



[via tech source from bohol]