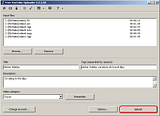 Free YouTube Uploader
is a
free Windows application
which can upload video files directly to YouTube without the need of YouTube's web interface.
You can add all the video settings from within the application, such as title, description, tags and category. One of the good features of the program is that it includes a video trimmer that lets you optimize the size and quality of the video easily.
If you upload videos to YouTube regularly, you should give this app a try!