On Friday, Yahoo let it be known they added a small tweak to Yahoo Messenger 9 for Windows.
When the latest version of Yahoo's chat application launched, it broadcast as secondary status messages certain activities within the Yahoo network, like refreshing your avatar. Now the service has expanded to record your doings on roughly twenty networks outside of Yahoo--like Twitter, Last.fm, YouTube, Pandora, and Yelp--as well as tracking your whereabouts more thoroughly within Yahoo's network, like the sports, movies, and shopping silos.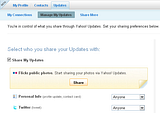 Sharing is optional, of course, but to get it, you'll need to make sure you've got a Yahoo profile set up. Then click 'Updates', then 'Manage my Updates' to pick share sites within Yahoo. To set up status-sharing from outside services, you'll need to add your login name via the 'Share More' tab. Set-up was fast and easy, especially with the search field that lets you enter a common username to find multiple accounts that share your log-in.
Is it notable? Not really. It's a small tweak that might take some work off the hands of obsessive status-updaters, but given Yahoo CEO Carol Bartz's vow to whip Yahoo's engineering corps into shape, this isn't the kind of 'news' we expect to see going forward.
[via download.cnet.com]