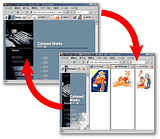 Split Browser
is a Firefox
addon
which splits the content area of the browser window as you like. It will help you in various cases. For example, to compare multiple webpages, to show a calendar always, and so on. It is suitable for those users who have large screens, i.e screens larger than 19" or those who have high desktop resolutions.

It only splits the content area (both vertically and horizontally), not the whole browser. You can open tabs in new content window, just right-click the tab, select 'Split Tab To' and then select the area where you would like to split.

If you have multiple tabs, you can select to split them all by clicking 'Tile All Tabs'. Also, status of split browsers are saved, and automatically restored on the next startup.