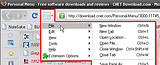 One of the better ways to get Google Chrome or Internet Explorer-style compacted menus in Firefox is
Personal Menu
. The add-on comes loaded with options, so for a one-trick wonder it's pretty slick.
It adds an icon to your toolbar customization window which you can then drag-and-drop onto the toolbar of your choice. I stuck it on the Menus Toolbar next to my navigation and refresh button, because Personal Menu comes with the option to hide the menu bar. By getting rid of the Stop Loading button, because I use that even less than I use the forward button, and the search bar, which is functionally duplicated by the search features in the location bar, I'm able to clear up a significant amount of screen real estate.

The reason to go with Personal Menu, though, is that it lets you heavily configure the menus that it hides. From Personal Menu's Options menu, you can configure which menus appear behind the button, and in which order they're listed. These choices aren't limited to the standard File, Bookmarks, or Tools--any sub-menu from the main menus can be pulled out and added to the drop-down.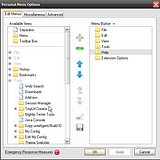 Mouse actions can be configured to alter menu behavior, too. From the Miscellaneous tab in the Personal Menu extension options, users can adjust actions when middle-clicking or right-clicking on the Bookmarks or History buttons, as well as alter the number of pages that appear in the History. Advanced options include adjusting in which direction the menu opens, forcing the menu bar to appear via a hot key, and "emergency response measures" to bring up the menu bar if the toolbar icon accidentally gets disabled.

[via download.cnet.com]