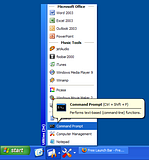 Free Launch Bar is a Free replacement for the standard Quick Launch bar. All functions presented in Quick Launch are also in Free Launch Bar. However, the Free Launch Bar is fully compatible with Quick Launch because it uses the same folder for shortcuts. But there is one huge difference. Free Launch Bar allows you to combine your shortcuts into groups. This feature looks like popup menus. This vastly improves the management of your shortcuts and save working space on your desktop. By using Free Launch Bar, you speed up the launching of your applications like never before.
The main features of Free Launch Bar:

* Creating menu on taskbar with unlimited levels
* Integration into Windows Shell
* Low resources
* Compatibility with Quick Launch
* Creating separators to group shortcuts inside menus
* Different view modes
* Hotkeys
* Using PNG pictures as icons
* Support of Windows Drag&Drop technology. To add shortcuts you can simply drag them into menus
* Improved tips. You can include some of HTML tags into button description.
* Fast toolbar switching

Free Launch Bar runs on 9x/ME/NT/2K/XP/Vista.