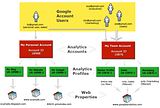 Google
released the public beta version of the
Google Analytics API
after running a private beta program with hundreds of developers for about a year.
With the Google Analytics data API, developers can develop client applications that access Google Analytics data and subsequently present it in new, innovative ways. By combining a wide variety of metrics and dimensions, an API-based client application can deliver custom reports, more refined data or new visualizations that in turn provide new ways to analyze the performance of websites and web applications.

There are already some interesting applications that use the API, including a dashboard that integrates data from Google Analytics, a SEO tool that analyzes the keywords used to find the site, a mobile interface for Google Analytics and an AIR application.

"The Data Export API is easy to use and provides read-only access to all your Analytics data. Any data that's available through the standard Analytics web interface is available through the API. The Analytics API is a Google Data API. This is the same API protocol for Google Calendar, Finance and Webmaster Tools," mentions the Analytics blog.