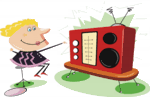 There's a song playing on your local radio station but nobody is telling you what that song is. I
f you've got a microphone, place it near the audio source and pass the audio via
Tunatic
. It can help you identify that song.
When you click Tunatic's 'search' button, Tunatic transmits the song's features to the Tunatic server. The server searches its database and returns the matching song.
To run Tunatic, you need:
A PC running Windows 2000, XP or better
or A macintosh running Mac OS X v10.2 or better
Internet access
A microphone plugged to your computer. Alternatively, you can plug your sound source directly to your computer.
Can I get Tunatic to identify music that is being played on the computer?
On the Macintosh, this can be achieved using software such as SoundFlower or Jack OS X. Both of them are free!
Most PC sound cards allow you to select "What You Hear" (also named "Stereo Mix" or "Mixed Output") as input. To get there, right-click Tunatic's window, select "preferences", then click the "Configure..." button.
If your hardware allows it, plug your sound output to your sound input. It's ugly, but it works!