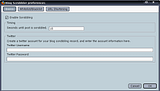 Blogscrobbler
is a Firefox addon that automatically submits the blog posts that you are reading, to Twitter. If you spend a minimum of 15 seconds reading a blog post, it will automatically tweet it to your twitter account. It notifies you by showing a small pop-up on the upper right corner of the screen.
You can of course change the number of seconds until the post is scrobbled. The urls will be shortened with Tinyurl or Bit.ly and also you can whitelist/blacklist some websites.
The installation process does not work like normal Firefox addons: you have to download the .xpi file and then drag and drop it to your Firefox window.