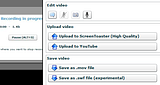 ScreenToaster
, the totally web-based screencasting (recording) tool, has quietly
rolled out
a whole bunch of new features, including HD-quality YouTube uploads, Flash/QuickTime downloads, and more recording tools.
1. Upload your videos to YouTube in HD
Benefit from YouTube's audience and viral potential
Keep ScreenToaster's High Quality on your favourite video platform
YouTube videos now include soundtrack


2. Download in .mov for video editing
Benefit from third party video editing tools to rework your videos
Audio now supported for downloaded files

3. Beta Test our recorder API
Let your users publish videos directly on your blog, forum, website or extranet.
Ideal for collaborative projects, professional tutorials, users' support and feedback management, bug tracking and reporting.



ScreenToaster is a free to use

and record one-off videos with, bit requires a sign-up to save and track videos on the site for later playing and embedding. It runs anywhere Java can inside a browser.