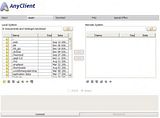 AnyClient is a free platform independent file transfer application (FTP) that supports all major file transfer protocols including FTP/S, SFTP and WebDAV/S. AnyClient is available both as a
web based service
requiring no software installation, and as a
downloadable application
that you can install locally.
The ftp client configuration menu contains similar options than local ftp clients offer. Users can add and store multiple ftp servers, select the protocol, add sftp / ssh authentication and specify a starting local and remote directory.
Once the ftp server has been added the ftp client can be used to connect to it. Users can now download, edit, rename or delete files while connected to the ftp server. A feature that is missing is chmod which can be used to configure access rights for files.
[via
gHacks
]