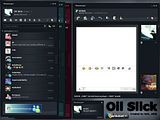 A new version of the popular customization addon for Live Messenger is out:
Messenger Plus! Live 4.81.358
.
Messenger Plus! Live is the one essential add-on for Windows Live Messenger, period. Installed more than 400 million times since 2001, when it started as a simple add-on for MSN Messenger 3, Messenger Plus! is guaranteed to improve your Messenger experience by leaps and bounds. You won't just get a couple of new options, what you'll get is a whole new dimension for the Windows Live Messenger software.
Among it's best features are:
Tabbet chat window
Colors, Formatting and Commands
Custom Sounds
Quick texts: customizable messages that can be sent with a simple shortcut or typed command.
Personalized Status
Contacts on Desktop
Multi-Messenger (login to more than one account in the same time)
Event Viewer and Logging
Messenger Lock
Contact List Clean-up
Support for skins.
Support for scripts, including Twitter in Windows Live Messenger!
For a full list of features and explanations, see
this page
.
Change log (4.81.358):
Directories and files in the log viewer are now sorted chronologically, when possible.
Added "OverrideImgTransfer" registry setting. If set to true (1), Messenger Plus! forces a JPG file to be sent in a file transfer when a picture is pasted in a conversation. Especially useful if you do not like Photo Sharing in Messenger 2009.
Fixed: custom emoticons that are assigned keyboard shortcuts such as "!" prevent emotion sounds to be sent properly.
In order to accelerate the uninstaller, scripts and skins removed during uninstallation are now deleted instead of moved to the Recycle Bin.
Fixed: Log Viewer does not display long chat logs properly when Internet Explorer 8 is installed (I consider this to be a bug in the way IE8 emulates IE7 for WebBrowser controls with Transitional XHTML).
Fixed: pressing Ctrl+A in a multi-line edit box doesn't have any effect.
Scripts. ChatWnd::SendMessage() can now be used with an empty message parameter to send the text currently present in the typing area.
Fixed: the Emotion Sound panel is not properly placed in the chat window when 20 sounds or more are displayed at the same time.
Fixed: some preferences windows and skin option panels may not be properly scrolled with the middle button of some mouses.