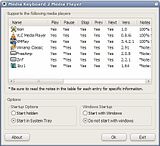 Almost everybody has a multimedia keyboard noways but unfortunately,
not all applications support multimedia keyboards
. Media Keyboard 2 is a
application
that
adds support for media keys in several media players that do not support those keys
by design: VLC Media Player, XMPlay, Winamp Classic, FreeAMP, 1by1, Xion and Zinf.
Media Keyboard 2 Media Player intercepts the key presses of your modern multimedia keyboard keys and then sends the appropriate hotkeys to your (supported) media player.
NOTE: If you change the hotkeys for one of the media players listed, Media Keyboard 2 Media Player will no longer work for that media player. So if you wish to use this, please leave the hotkeys at default settings for your media player.