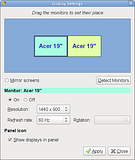 What's New for Users in Gnome 2.26:
# 2.1. Comprehensive New Disc Burning
# 2.2. Simpler File Sharing
# 2.3. Evolution Evolves its Migration from Windows
# 2.4. Media Player Improvements
# 2.5. Volume Control Integrated with PulseAudio
# 2.6. Support for multiple monitors and projectors
# 2.7. Almost Telepathic Communication
# 2.8. Location Epiphany
# 2.9. Fingerprint Reader Integration
And many other things. I see the support for mutiple monitors as the best thing in Gnome 2.26.
GTK+ 2.16 is the latest release of the GTK+ toolkit, which is at the heart of GNOME. GTK+ 2.16 includes a couple of new features for developers, as well as extensive bug fixing and housecleaning for the upcoming GTK+ 3.0.
Read the full announcement,
here
.