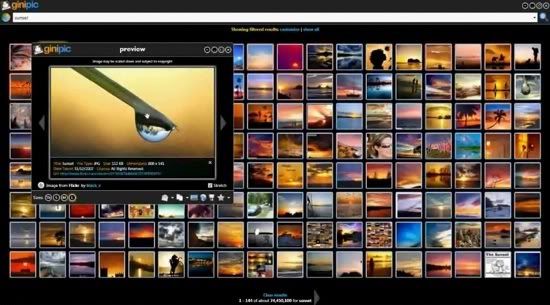 Searching for a specific image on the Internet can be like trying to find a needle in a haystack. Some sites, such as Google Image search, try to make the process easier, but shuffling through one page after another of results can quickly get tedious. That's where the free desktop application called
Ginipic
comes into play. Ginipic is a free to use Windows only application which can
search
image search engines, photo sharing websites or your own local picture collections
simultaneously
. You can find what you're looking for and
use
it
instantly
in your own creation - document, presentation, art work - you name it and work
alongside
other applications with Ginipic in Dock mode.
Here are some other features that make Ginipic worth it:
Multiple Sources - You can choose to search your favorite search engine or photo-sharing site (Flickr, Google, Yahoo!, SmugMug, deviantArt, Picasa, Photobucket, Facebook, and more), or expand your search to unlimited results with a click of a button, with our tailored "All Sources" option.
No Duplicates - Did you know that, on average, "big search engines not be named" give you 200 duplicates for every 1,000 results? Not with ginipic.
Incredible Variety - Ginipic gives you the power of the web to find ANY picture in ANY category with NO restrictions.
Advanced Search - Advanced search gives you the ability to customize your queries in each source - just as you would on their site.
Resizing - Choose your own preview size for the best possible experience! Maximize to enjoy the picture in all its glory, work small if you're just browsing away.
Tagging - Tag your pictures away and see them all in a heartbeat by choosing your tag in the comfortable Favorites source. Not a tag person? Just favorite the picture and you'll still have a super easy access to it.
Drag & Drop - Drag & Drop functionality gives you the ability to start working immediately - you see something you like, just drag it in your work space and continue working.
Save Images Locally - Want to backup or save it for later? No need in clumsy "right click, save as, too hard to understand what's going on" options - just save the picture right from the preview window when you're satisfied.
Set as Wallpaper - Do you feel like changing your background? Just hit the "Set as wallpaper" on any picture and instantly your desktop will change and renew before your eyes.
This is definitely a slick app, and truly handy for those heavy images searchers out there. Give it a whirl and let us know what you think.