Rapidshare is still offering one of the most popular file hosting services on the Internet despite the recent changes to the core system that have capped the downloads for premium users at 2.66 Gigabytes per day.
Rapidstack
is a realtime Rapidshare Search Engine. What does that mean? Unlike many other Rapidshare search engines it will scan the links before they are displayed in the search results. Only links that are found to be working will be listed while all others will be excluded from the list.
The interface is making use of Ajax to display new results as soon as they have been scanned by the search engine. Rapidstack will display the amount of total links as well as the good and bad ones. Each search result displays the title, url and the amount of links that have been found.


The search results provide access to two functions. The first is to click on the title of a search result to visit the website that is linking to Rapidshare. The second is to extract all Rapidshare links on that specific page of the website. This will open a list of Rapidshare links which can be comfortably pasted into a Rapidshare download software.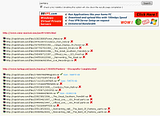 A great alternative to Rapidstack is crawlrapidshare, which also checks links for validity, uses ajax and does not link to the original post, but only to the file links. I found this one more relevant. As you can see, looking at the two print-screens, i searched for Pantera using both rapidshare search engines and Rapidstack's results had nothing to do with the trash-metal band Pantera while crawlrapidshare found almost only Pantera band related links. But that was just one search so better try them yourself and see which one's better.